Financial Auditing in Richardson, TX
Considering an audit for your business? When deciding between our audit, review, and compilation services it's important to consider the future plans you have laid out for your business. Contact our consultants at Vail & Park to help you decide the appropriate course of action. We will help you choose wisely to avoid unforeseen costs down the road. We can also answer any questions you might have about the process to help you prepare.
Audit Services with Vail & Park, PC
If you are interested in conducting financial auditing of your business, hiring a 3rd party accounting firm like Vail & Park, is critical in maintaining the validity of your financial information. While internal accountants may aid in the facilitation of information related to an audit, hiring an outside firm like Vail & Park will allow for accurate evaluation of internal controls and assessment of fraud risk.
Due to our independent position as an auditor, we often can help identify managerial decisions that may help improve your business operations. For more information contact one of our consultants today.
Or maybe you are in need of a financial statement review? When a higher level of assurance than compilation is required, our team of CPAs will conduct a review of your financial statements, performing additional analytical procedures. This is often appropriate for growing organizations as they are introduced to more robust regulatory requirements. Each review is tailored to meet your needs, depending on what those requirements are.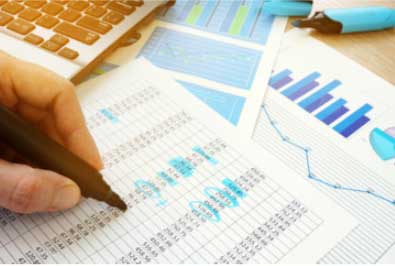 Routine Reporting or Changing Ownership?
To minimize the disruption of any financial auditing services, you'll want an accounting firm like Vail & Park that knows your business. With expertise ranging across a multitude of industries, you'll have an auditor that knows your business. Our accountants conduct financial audits with the highest level of knowledge and professionalism, both within their specialties or for the many other small businesses we service.. We pride ourselves on our ability to come prepared with a thorough understanding of the ins and outs of your business operations.
If you are conducting routine annual review, seeking a loan, or considering a sale of your business contact our office today to discuss your unique needs.